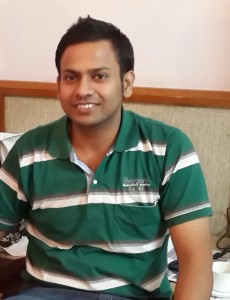 Saket Jain is an Indian computer science engineer with over 4.5 Years of experience in Linux/UNIX System Administration in Ericsson Global India Pvt. Ltd, Ericsson Egypt and HCL Technologies Ltd. His current affiliations include being "Tier –II Engineer" in BSS (Business support system) in Ericsson, Gurgaon. His name had been included in Limca Book of Records in the year 2012 for creating the "World's First One Page Blog on Internet".
He has obtained his B.E. from Jagannath Gupta Institute of Engineering and Technology (JNIT), Jaipur and PGDM (Systems) from IMT Gaziabad. He is fond of creating new innovative things and had also created various tools which include NIS User Password Management through Web Portal, Notes management software, Links Management Portal, an Online Word Dictionary, etc.
He is also a moderate Yoga Practitioner cum Trainer associated with Bhartiya Yog Sansthan(Regd.), New delhi.
Certification Details
1. RHCSA (Redhat Certified System Administrator) and RHCE(Redhat Certified Engineer) on RHEL6(Red Hat Enterprise Linux 6)  Certificate No. 110-380-425.
2. RHCE(Red Hat Certified Engineer) on RHEL5  Certificate No. 805008382433073.
3. Limca Book of National Records 2012 Certified.
Author Blog
http://saketjain.com ~ World's First One Page Blog
http://blog.saketjain.com ~ One page blog replicated in wordpress. The beauty of this page is that it automatically posts new articles or comments which were posted on main page saketjain.com The reason why I have created is that, AJAX pages are not crawled by google search, so to make the posts appear in google search I need to create this blog page.