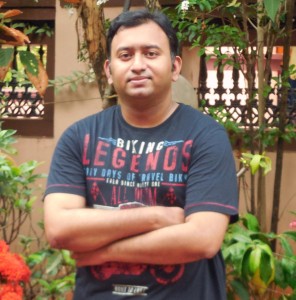 An Aquarian by nature, an anaesthesiologist by profession and an avid blogger by vocation, Dr Roshan Radhakrishnan believes in the healing power of love and laughter but practises medicine just to be on the safe side. He has previously been published in various anthologies including:
1)'Chicken Soup for the Indian Doctor's Soul' (Westland Publishers)
2)'Urban Shots: Bright Lights' (Grey Oak Publishers)
3)'Love Stories that Touched my Heart' (Penguin Publishers) and
4)'Ten Shades of Life' (Mahaveer Publishers).
His short stories have also been published in medical conference souvenirs and charitable organisation periodicals and he presently hosts his own column "An Appletini a Day…" in the popular e-magazine Tamarind Rice.
In 2012, he was chosen as one of India's Premium Bloggers by the social network, Blogadda.
He blogs at www.godyears.net.